I've had this newspaper clipping from 1943 for as long as I can remember. I'm not sure how I inherited it, but it's looking worse every single time I run across it. It now has tattered edges and some pretty yucky stains. I always think that "some day" I'm going to type out the text but never find time. That is… until today…
After this article was published, Dad (Dallas) and Uncle Max both served in Korea, and Aunt Pudge (Dean's wife) served as a nurse (they were married in Czechoslovakia against the rules… she was a commissioned officer and he was Private). Uncle Roscoe was in the Navy in WWII.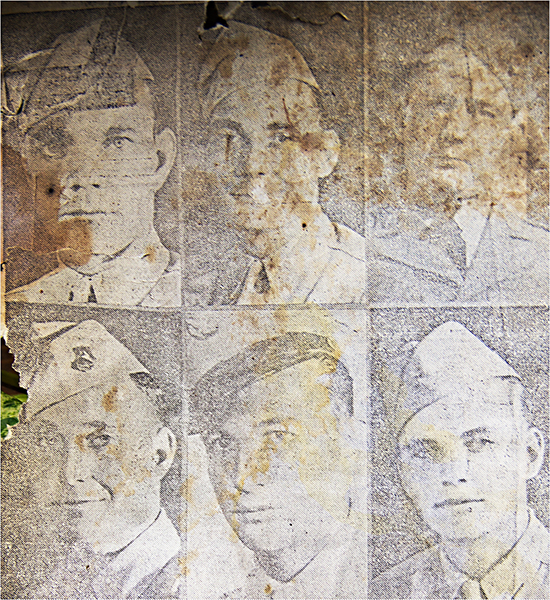 March 1943
6 Brothers In Service Hold Record
Top Row, left to right:
Cpl. Richard A. McKain, 308th MPEG Co., Interment Camp, North Camp Hood, Texas. Age 33, born May 5, 1920; entered army March 18, 1941.
Pfc. Otis L. McKain, 35369948, 512 Eng. & Pon. Co., A. P. Hill Military Reservation, Virginia. Age 28, born June 2, 1915; entered army, September 18, 1941; married and has one daughter, Barbara. Mrs. McKain is making her home with his parents and with her parents, Mr. and Mrs. Oren Johnson, Tampico.
Sgt. John P. McKain, 35100868, APO 251 % Postmaster, New York City. Age 24, born December 7, 1918; entered army January 28, 1941.
Bottom Row, left to right:
Cpl. Roland V. McKain, 35685272, Btty D, 257 AAA Auto Wagon Bn., 52nd & Telegraph Sts, Oakland, 9, California. Age 22, born May 8, 1921, entered army December 6, 1942; graduated Brownstown high school 1939.
Pvt. Kenneth D. McKain, 35685272, Co. H, 65 Med. Regt., Camp Forest, Tennessee. Age 20, born January 11, 1923; entered service, January 11, 1943; graduated Brownstown high school 1941.
Pfc. Jack McKain, 35699704, Co. L, 375 Med. Bn., APO 451, Ft. Leonard Wood, Missouri. Age 18, born November 18, 1924; entered service March 6, 1943; graduated Brownstown high school 1942.
What is believed to be a Jackson county record for the largest number of brothers in the armed services of the country is held by the family of Mr. and Mrs. John R. McKain, of Shale Hill, Brownstown, route one, six of whose sons are in the army.
While five of the boys are still in training or on duty in this country, one of them, Sgt. John P., has seen much active service in North Africa. It is probable that he also saw service in Sicily and even now may be fighting around Naples. During the North African campaign he assisted in the capture of a party of fifty Germans and secured an Italian medal from one of them which he forwarded to his parents.
Corporal Richard, who is with the Military Police, has passed through here several times as one of the guards on trains transferring German and Italian prisoners from the east coast to the interior.
The boys have one older brother, Roscoe, of Seymour, and two younger brothers, Dallas, age 14, and Max, age 11. The also have three sisters, Mrs. Catherine Critchlow, of Indianapolis, who is a registered nurse; Mrs. Ethel Jackson, of Brownstown, who is working in a defense factory in Seymour, and Shirley Ann at home.
Mr. and Mrs. McKain are very proud of the service which their sons are performing for their country and Mrs. McKain declares that if needed she would join them herself.