If there's anything I've learned so far because of the 'Escape the 80's House Project' it's that I'm not an expert at everything. Yes, I knew that all along, but meeting with a contractor yesterday reminded me — primarily because he had so many really good ideas.
The master bathroom skylight has some ugly plastic covering that forms a lighted ceiling effect. Two seconds after talking to the contractor in and about that room, those plastic panels were popped up and he says, "We'll knock down that texture and paint the inside the color of the walls for a dramatic effect." Well… duh. I KNOW I should've thought of that, but I was too busy focusing on just "fixing" the bigger things needing attention that I ignored possibilities for improvement on little things that weren't what I considered horrible. That one little suggestion will make a HUGE difference.
There's also a built-in box thing at the foot of the tub (right now covered in red carpet) that serves as its access panel. In the next two seconds, the contractor popped off the cover and said, "There's nothing in the box. We can get rid of it and make more room, and put the access panel in a wall right here on the back." ARGG! Why didn't I think of that? I'll tell you why — I was so busy thinking about how to cover it up to make it look decent that I overlooked the obvious.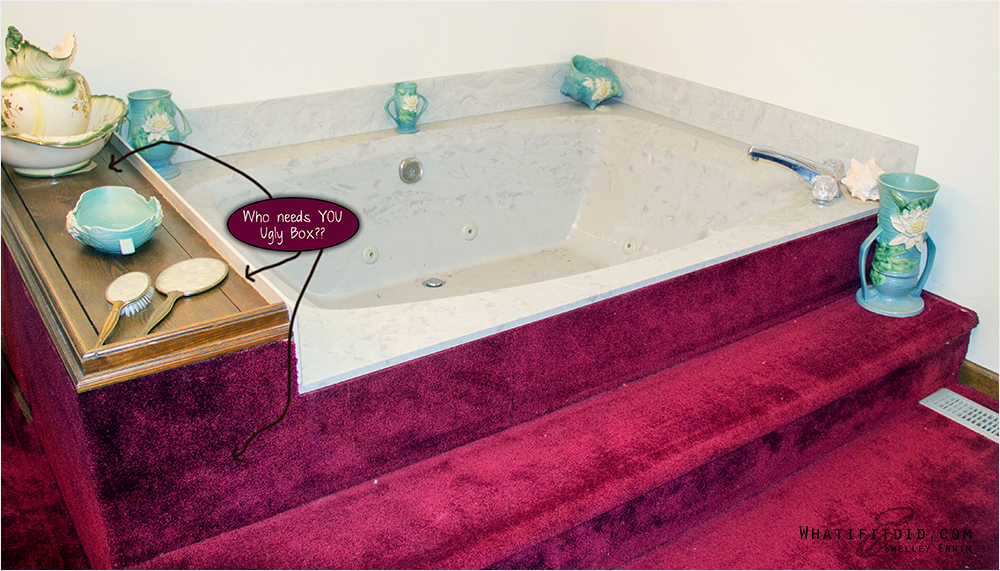 That's when I was reminded that business is like that too! If you don't collaborate with others, if you don't LISTEN to ideas and learn from people who are experts in their fields — and if you go through every day trying to "fix" the obvious while ignoring the little things that make a HUGE difference — what can you really expect as an outcome?