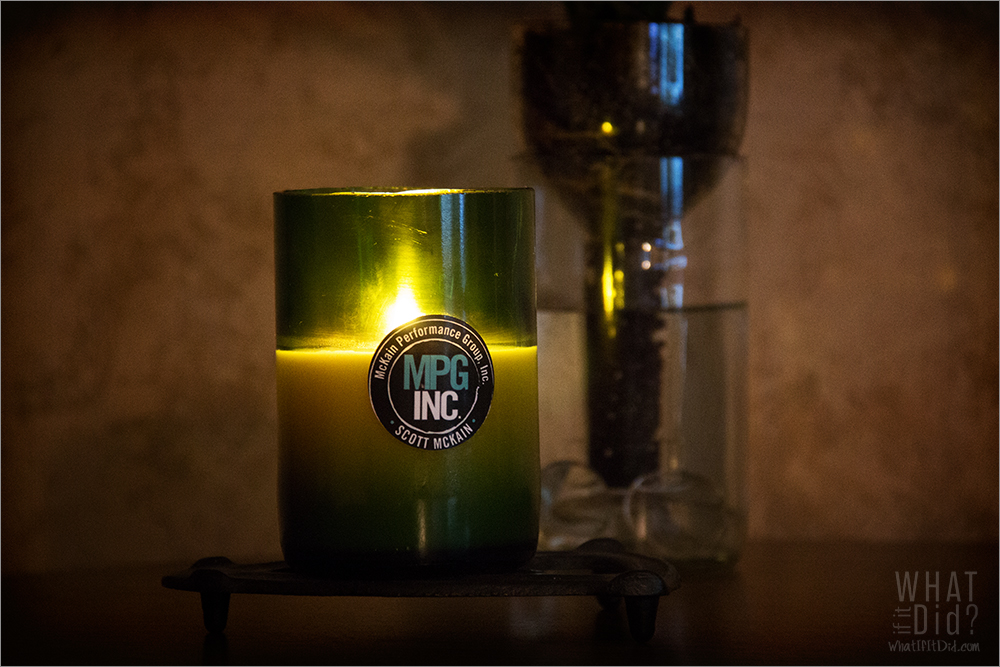 I've found something I LOVE to do. Well… sorta. If I were being honest, the thing I really like is the finished item. I love candles and have one burning just about all the time, and I love items that are different and don't look like anything you can get at Wal-mart. But just like anything else, there are certain parts of the candle-making creation process that I like better than others.
For example, cutting the wine bottles to make the container is not the most enjoyable thing I've ever done. If I were going to mass produce these, I'd get some kind of big hairy cutter and an electric sander. Melting the wax and pouring it was easy peasy. The double boiler method takes a very short time and the clean-up was over in just a few minutes. I'm going to add a bit more scent in my next attempt. (MUST. DRINK. MORE. WINE.) This particular batch, (my first try ever) has a very soft scent and I prefer bold smelling candles. Understandable I guess since I primarily used vanilla and just a tiny bit of orange. (It's sort of like occasionally thinking someone might be eating a dreamsicle near you, instead of knowing for certain there's a dreamsicle nearby and wanting it for yourself.)
If I were a meeting planner, I'd love to get one of these in the mail with a personal note as a follow-up connection or thank you. The problem? I prefer to keep them all for myself.