Once again, thanks to Veterans and their families for their service. I want to share a comment made on Facebook by friend, Dan Leclerc, in 2009 — it touched me then so I kept it… and it still does today:
This morning, I saw the old man who has served as the crossing guard down the street for years in a new light. Usually he's wearing overalls and beat-up ball-cap. This morning he was in his old dress uniform, the chest covered with medals and ribbons. I guess his job has always been to protect us.
This Puppy Mommy Gig
I have learned 10 very valuable lessons that I want to pass to you:
NEVER feed your dog(s) breakfast at 6:00 AM unless you want to get up at 6:00 AM for the rest of your life
Replacement charging cords are expensive
If you have more than one pet — they always want what the other one has
If you already own a dog and get a puppy, the existing pet will live a tortured life
Puppies are cute when they sleep but otherwise are tiny sharks that are 90% evil
You may be thankful when your puppy falls asleep at 8:00 PM but that is an illusion — they will be up 1/2 the night
Puppies will eat ANYTHING… and then, they will poop it out later on white carpet if you have it in your house
Dogs learn quickly that 'going outside' means a treat upon return — you will let them out even if it's a cruel trick… just in case
Don't cuddle a puppy close to your face if you want to keep your nose, eyes, lips and cheeks
…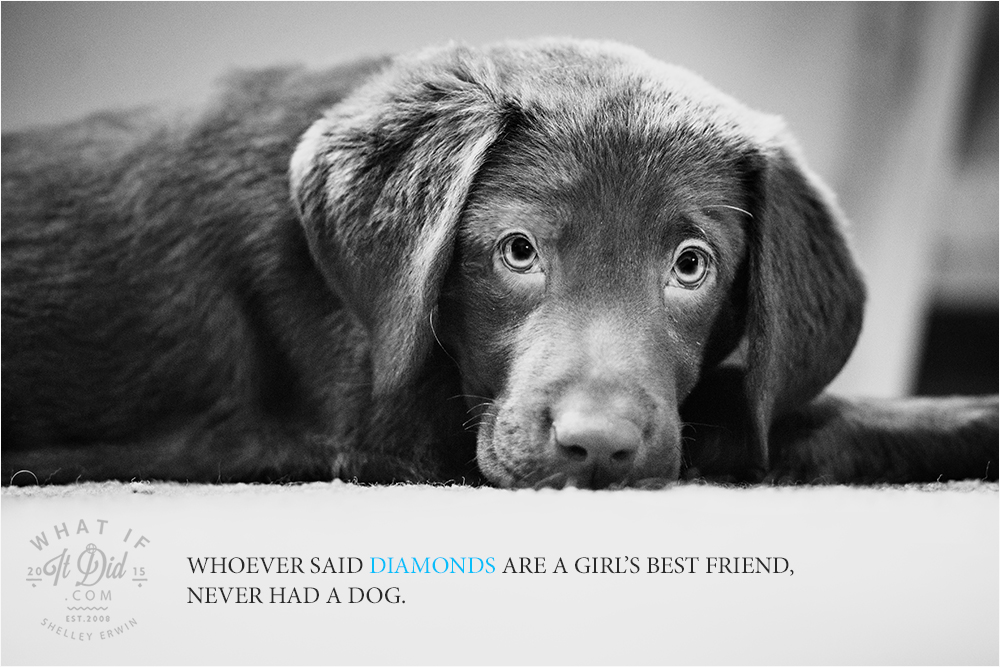 If my list consisted of 11 lessons instead of 10, I would've added that dogs in general are expensive and you shouldn't get or have one if you don't intend to take care of it properly. Between vet visits, shots, heart worm pills and dog food ($22 for a 4.5 pound bag, you guys — about the same as the going price per pound for ground round), it is an expensive, long-term commitment. But in my opinion… it's sure worth it!