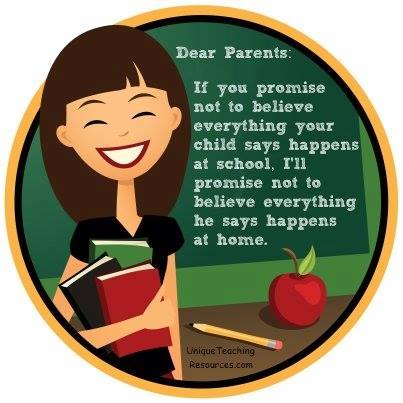 A teacher friend of mine posted this image on Facebook today and it immediately brought back a memory of my days driving a school bus. At the time this memory was made, I was mortified. Now, it only brings a chuckle.
A girl student — about 9 or 10 years-old at the time I would guess — proclaimed that her Dad had a lot of "letters on his computer" about sex and "his erect penis." She seemed genuinely concerned that dear ole' dad had a problem. I could see the older male students perk up as they easily heard the exchange, and knew if I didn't say something pretty darned quick, what happened next might be R-rated in front of kids as young as 5.
I said something like… those are just emails sent by computer robots and everyone gets them — they don't mean a thing. I scowled gruffly enough toward the older kids at the back of the bus that you could've heard a pin drop. Very softly, so no one else could hear, I told the little girl that I got those kinds of letters on my computer too sometimes. (I figured even at her age… she would understand that if I'm a girl and I got emails just like her Dad, they surely meant nothing.)
But the next day, the girl's Mother called to let me know her daughter came home and said that her bus driver (ME!) talked about a penis on the bus. At the time, I was royally pissed and shocked (and hurt too but didn't let those emotions show during the conversation) that anyone would think I would casually talk about a penis with a 9 or 10 year-old child. By this point, I'd already driven a bus for some 10 years and this incident was the first — and only time — I felt like a parent didn't have 100% faith and trust in me to care for and safely transport their child. Otherwise, why call in the first place?
I tried to explain to Mom what really happened — but it wasn't easy. How exactly do you tell a parent that her husband's erectile disfunction spam emails aren't being deleted immediately and their young daughter is reading them to the point she's thinking about it on a school bus? Instead of reprimanding the Mom/her spouse for allowing a child access to those types of messages — I simply did my best to assure her I wasn't talking about a penis, and there must've been a misunderstanding.
The moral of this story is obvious:
Don't believe everything your child says happens at school — and don't believe everything your child says happens on a school bus either.