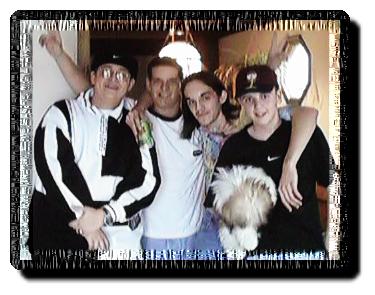 This photo was taken by what was once considered a great digital camera. I'm guessing the year was 1996 when Jeremy, Nathan, Jeremiah and Ben were Freshmen in high school.
I recognize my kitchen and Ben's dog, Moogle, and figure it wasn't taken because of any special occasion — kids seemed to always show up at our house.
Ben, Jeremiah and Jeremy were pretty much a constant — along with Michael (not pictured) — but Nathan wasn't around as much. That may be why I took the photo.
Nathan passed away December 2016 at 34 years old. Sadly, Nathan's path in life changed after high school.
The other 3 remain good friends all these years later. Not much has changed…
The quality of the iPhone photo is slightly better (although not much because it was taken in a dimly lit place); Jeremy is standing on the wrong side of the photo; and Jeremiah got a hair cut (FINALLY) — but other than that, these three are basically the same… and still good friends… all these years later.