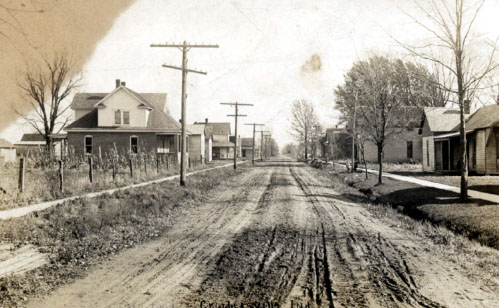 I know it's not Tuesday, (Time Capsule Tuesday pretty much got abandoned) but to your left is an old shot from someplace in the Ville. I know many visitors here aren't located even close geographically to where this photo was taken, but I hope you still find it interesting.
Interesting if only because it's a piece of someone's history. Someone's roots. Someone's hometown.
I'm of the opinion that where you live is not who you are. You can live in the city and make fun of "country folk" — or you can choose to live in a rural area and poke fun at those who have close neighbors. But the simple fact is you can be successful (or a failure) no matter where you lay your head at night.
It's just geography, you guys.
He is the happiest, be he king or peasant, who finds peace in his home.
~Johann Wolfgang von Goethe
I no longer remember where I got this or even what year it was taken — but I do recognize a few of the houses shown that still stand today. For those of you that DO live around here… you have to figure out the location all by yourself.