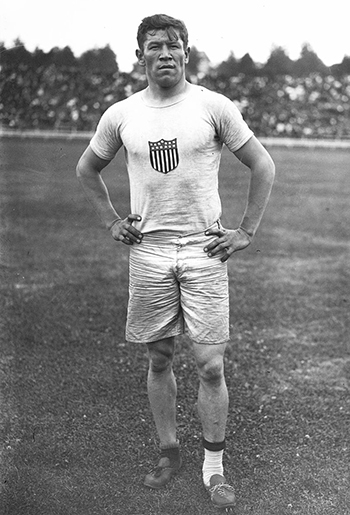 This is Jim Thorpe at the 1912 Olympics. Jim, an American Indian from Oklahoma, was there to represent the U.S. and on the morning of his competitions his shoes were stolen. He found a mismatched pair of replacements (see photo), including one from a garbage bin, and won the gold medal wearing them.
I looked for a great quote to add to my thoughts and searched good ole' Google using the keywords "excuses or results quote." Google served up about a bajillion different people saying basically the same thing (reminding me that lots of people a whole lot smarter than me are talking about not giving reasons why you can't do something). I'm opting out of adding a quote but will instead just say it as best I can…
Jim Thorpe had many reasons why he couldn't compete — much less WIN — in the 1912 Olympics. But he didn't whine about not having his shoes or complain about the fact that no other Native American (during a period of severe racial inequality) had ever won a gold medal for the United States.
He found a solution to his challenges and produced results. 
Don't let challenges stop you from running YOUR race.
Colette didn't let a little thing like already having a milkshake at Larrison's Diner keep her from reaching her ultimate goal for the day… a trip to Orange Leaf for yet another summer treat. If you want something badly enough, don't let excuses get in the way of obtaining it.