Adobe's Kuler app (for android and iPhone) is every color nerd's dream. On the fly, you can capture color palettes — photographers and decorators (and designers… and…) know you can do a ton of stuff with that. Simply snap a picture or import one already taken (the app even offers different places to grab images) and Kuler does the rest!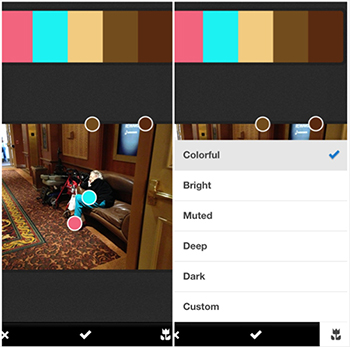 Like if you're at a casino and see a random sleeping old person, you can take the photo and Kuler will provide the color scheme. AND, you can modify the scheme by choosing your own flavor too. If you don't like the dominant colors Kuler chooses for you — you can pick colors from the scene with only a touch, or you can modify the default theme to create your own (colorful, bright, muted, etc.).
A few ideas to help you get started… you have this amazing framed picture in your living room and you're about to paint the walls but don't know what would fit within the theme… open the app and point. If you have a subject you want to photograph and they wore some horrid green shirt, you can easily figure out the best color theme to compliment what you've got to work with. The possibilities are endless, you guys. If my shopping buddy came alive before noon, I'd already be out snatching up some color-awesome items for the 'Escape the 80's House Project'.
So grab the app and have some fun! Read more about Adobe's Kuler app from their website — you can find the link to download the app from there, or simply search the app store. Let me know what you think!