When something happens in a smaller town or smaller city, it becomes a big deal. Things like designing a "welcome to town" sign or a drug arrest at a fast food restaurant shake a whole bunch of people up.
When the City of Seymour paid a cool million for their welcome sign, many residents were unhappy and presented a laundry list of things that money could've been spent on instead. Thing is… it was a grant. You can't spend sign grant money on anything other than a sign.
Similar thing happened this week when signage was proposed (via Facebook) by a board member from Crothersville. A sign from vinyl fencing (and you can guess how expensive that could be) brought people out of the woodwork — some to praise the idea and others to complain about what that money should be spent on instead. Really??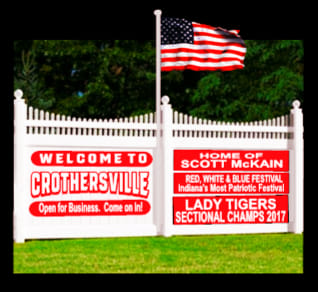 Police arrested 2 employees for dealing drugs at the Scottsburg, Indiana Long John Silvers. News of the arrest was on WDRB, one of Louisville's TV stations, as well as on their website. I think it's awesome that the new sheriff is cracking down on drugs there, I just didn't expect the arrest of two people to make headline news.
You gotta love Sheriff Jerry Goodin's quote though…
"We are not going to tolerate you sending this poison into Scott County," Goodin said. "We're going to come after you no matter where you are."
He's not messin' around, that's for sure. I just hope the dealers from there don't relocate about 8 miles north to my hometown. It's already at quota, I'm sure.
In other local news… BAM!