Days Gone By article contribution from 2001 from the 'Old Timer' including a photo of the Crothersville Memorial Board taken near 1945.
(Only 2 days late…SORRY!)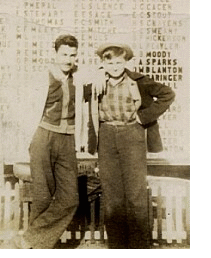 The photo of the Memorial Board that is on the Veterans Tribute page here on crothersville.net, brought back fond memories of times past. The board that was located next to the old Garriotts Garage and shoe store was a source of great pride for Vernon Township residents. I'd love to see that board again. There was grocery store nearby that received telegrams when anyone was wounded. I've been told that the owners of the store would pay local youngsters a dime to deliver these telegrams to the unfortunate families. I can't imagine any of our children or grandchildren doing anything for a dime these days…
As the weather warms and we busy ourselves with our jobs and families, let us remember why we have this free country in which to live. Flag Day and D-Day are important times in the month of June. Let us be thankful for those that gave so much.
I must also mention that in the month of June is Father's Day. Fathers usually do not receive as much attention on their special day as do the Mothers on their day… but that is understandable. In my day, kids were just around their mothers more, because Dad was always working. Remember this year, that fathers are just as deserving of our love as our mothers. When you see your Dad, not just on Fathers Day, give him an extra hug and tell him you love him. I wish I could tell my Dad just one more time.
The above photo is of Mike Seal (left) and Don Gatewood (right) taken near 1945. Thanks to Adda Belle Riley for the photo.