Mike Seal and JoAnn (Cathcart) Seal were featured in the "Where Are They Now" section of the Crothersville website August 2002.
Below is the information that appeared more than 8 years ago…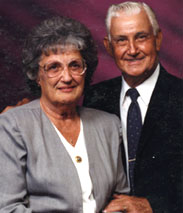 Mike Seal and JoAnn Cathcart were married on September 14, 1947 and will be celebrating their 55th wedding anniversary this year.
Mike moved to Indiana from Sneedsville, TN and JoAnn was raised in Little York, In. Mike semi-retired from the old American Can Company at 55 years old in 1982. He has continued farming, building houses and raising Black Angus beef cattle. Three years ago he finally retired, but you still can catch him doing something around the farm.
JoAnn was a stay-at-home Mom and enjoyed cooking, rug looming, quilting and working in her flowers.
The couple have 2 daughters, Rhonda McCammon of Seymour, and Phyllis Hall of Crothersville. They have been blessed with 5 grandchildren; Heather, Richie, Rachel, Ryan and Christy, and 3 great-grandchildren; Zachary, Zach and Shelby.
Mike & JoAnn enjoy watching sports on TV and going to watch local sports with their great-grandchildren. After visiting friends and family, they enjoy a quiet evenings at home.
Happy 55th Anniversary Mike and JoAnn from your family and friends!