Today's time capsule Tuesday is a compilation of random stuff…
From the archives of crothersville.net, the "hot news" page dated May 6, 2004 was filled with these interesting facts:
Amy Smith, first grade teacher at C'ville Elementary was the recipient of the Wal-mart 'Teach of the Year Award' for Jackson County.
Tara Smith received the Lilly Endowment Community Scholarship — 4 years of full tuition to any Indiana private or public college. She was only the 2nd student from Crothersville to receive the honor.

The VFW Post 1083 began plans to build the Veterans Memorial and a mock-up art drawing was provided to the public.
Local Editor Trips Over Mushroom – It's been said that mushroom hunting is a true sport as the fungi have an equal chance to win. That may not be so when mushrooms grow to the size of those pictured. It appears to me that Curt Kovener, local editor of The Crothersville Times, has acquired bragging rights for finding two pretty healthy sized mushrooms right here in Jackson County.
Athletic Booster president, Jerry Bailey, presents the $500 Booster Scholarship to a male and female athlete each year. Recipients for 2004 are Nate Rypma and Molli Schaeffer.
Girl's Varsity Track Gatorade Will to Win Award went to Laura Bradford and the Gatorade Player of the Year Award was given to Liz Otte.


Male Trophy Winner Athletes: Seated L to R: Aaron Johnson, Mason Boicourt, Chris Campbell. Standing L to R: Kyler Blevins, Nate Rypma, Bobby Isenhower.
Female Trophy Winner Athletes: Seated L to R: Amber Moffat, Molli Schaeffer, Allison Royalty, Liz Otte. Standing L to R: Kortney Masters, Laura Bradford, Kristi Poer, Ericka Lee, Lindsey Oakes, Amanda Seal.
(Thanks to Alisa Sweazy for providing the photos in 2004!)
– – – – – – – – – – – – –
The 'old time photo' submission is from 2001 and was submitted by Sherry (Brumett) Bridges — the Crothersville 1938 Baseball Team…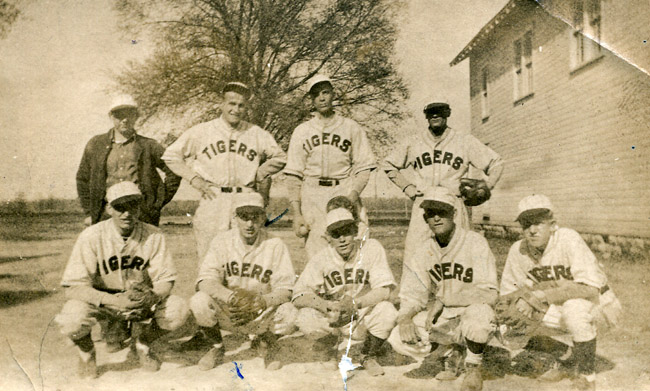 – – – – – – – – – – – – –
The 'Where are They Now' jewel I found was featured in February 2002: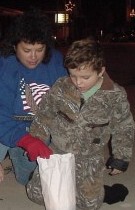 Alisa Riley-Sweazy is a graduate of Crothersville High School's Class of 1978. While in High School, Alisa was involved in many sports as well as organizations. Known for her expertise in volleyball and basketball, Alisa remains interested in sports and is a big Bobby Knight fan, even though he now reigns at Texas Tech.
Married to Ric Sweazy in 1979, they now have one child, Patrick, who is in the first grade at Crothersville Elementary School, and is 7 years old. He is pictured to the left. She and Ric are both members of the First Baptist Church and are active in all church functions. Alisa is a Sunday school teacher.
Alisa and Ric have coached their son, Patrick's Pee-Wee League team for the last three years. They also organized the first Co-Ed softball league this past fall and are expecting to do it again this fall. All at the countryside park!
Alisa is currently employed by the Town of Crothersville as the Deputy-Clerk Treasurer. She's been employed by the town since 1997 and enjoys meeting and talking with town residents. She is also a valuable resource for crothersville.net, helping with all aspects of keeping the Crothersville Network running for visitors to the site.
I hope you enjoyed Time Capsule Tuesday this week!
I also hope you stay cool today — heat advisory blankets the Ville!