I attempted to shop on Black Friday only one time. We loaded in the car and headed north only to be stuck in a traffic jam on I-65 at least 2 miles from the exit we were planning to take for the outlet mall. It was pure pandemonium — there were cars stopped on the ramp. At first opportunity, we turned around and headed home without even getting out of the car. The following year, I gave a friend $50 to buy me a 'black Friday' TV and felt grateful. It helped her out and I got what I wanted. Win! Win!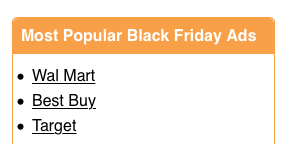 This year, Wal-mart is obviously confused because their Black Friday is on Thursday… Thanksgiving. Not only do they fail to fall into the "closed on Thanksgiving so our employees can be with their families" list, but they also make it the busiest day of the year! That means they require just about every employee to work the holiday (and the day after for cleanup). It's been said that in Seymour, Department Managers work noon to 9:00 PM on T'day (followed on Friday by their regular shift hours). If true, their family gathering options are limited to… ummmm… I guess they are screwed. Obviously, shoppers don't care that Black Friday is on Thursday (a holiday), because Wal-mart's ad is #1 in the most popular list.
I "get it" that restaurants, gas stations, and plenty of other businesses remain open on holidays, but I sure hope they do a better job at alternating shift requirements. And then, I think about my places of employment and realize that I've never, ever worked a Thanksgiving Day. That's probably why I'm fat.
For today's time capsule Tuesday, I'm sharing a photo that was taken ten loooooong years ago about this same time of year. Back when I was blonde (naturally, of course).