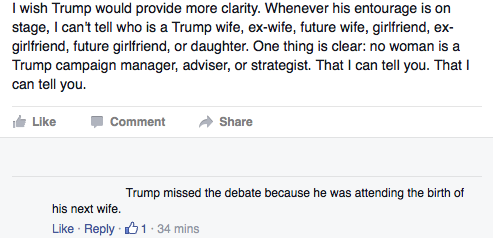 Yesterday, I talked about Blab — but today I have three things to share and one of them is Periscope. But first… I want you to notice the Facebook post screenshot to the right. I didn't comment on it because I stay away from politics on social media — but I laughed. Out loud even. No matter which candidate you support, I'm pretty sure it's still ok if you find humor in campaign comments. (I blocked out the names just in case this was only meant for friends and not for the public.) I found that jewel in the middle of the bajillions of selfies shared wearing an "I VOTED" sticker.
And I LOVED this Obama video so much more than I loved having him as our President:
http://www.cnn.com/videos/politics/2016/05/03/obama-couch-commander-retirement.the-white-house
Now that I got those two items out of the way…
Periscope enables you to live broadcast via a mobile device. You become your very own broadcasting station, streaming video and audio to those who join your "show." Twitter owns the app. Businesses and individuals alike use it for about everything you can imagine because just as the app explains, "Periscope lets you explore the world through the eyes of somebody else."
I used to think it was pretty cool that every time my brother went "live" I would get a notification. It's not so cool now that Dharma recognizes the alert sound. Even if she's sleeping, she excitedly gets up, puts her front paws on my desk, and whines until I hold the phone so she can watch too. Seriously. Don't believe me?