Dinner at Kansai Japanese Steakhouse (in Greenwood, IN) is more about the experience — the flames, interaction with the chef, and watching your meal being prepared on a habachi grill — than it is about the actual food.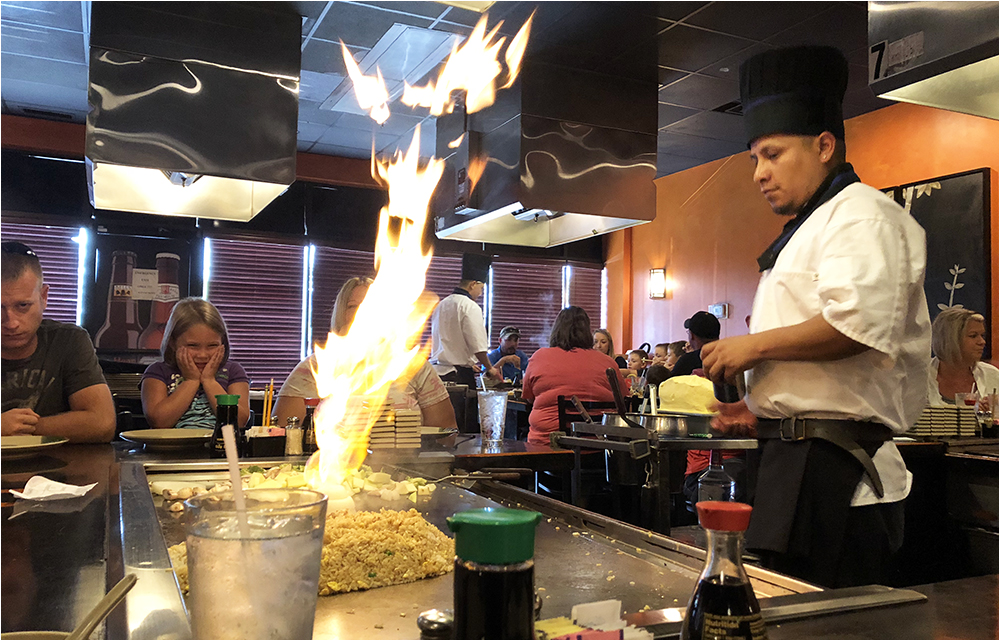 This butcher's daughter chose a filet and it was very, very good. Others in my party chose shrimp and chicken, and the samplings I had were tasty.  The rice and vegetables weren't anything fabulous — just average and bland. Portions were large and I had a snack for later.
Our dude did lots of egg tossing, spatula flipping, and knife banging. He tossed small clumps of rice via his spatula toward Colette's mouth that ended up in her hair.  She laughed and laughed and jumped when the fire licked overhead.
But that profit margin? According to our bill, we spent an average of $30 per person — and one person was a kid — that didn't include desert or alcoholic drinks (2 pepsis, a lemonade, and a glass of water).
While Kansai won't be a regular eating venue, I will go back. The meat served was good, the rest of the meal average, and the experience was great. Obviously, you can expect to pay more when you're seeking a product (food) with a distinct service (prepared on a hibachi grill table with seating). 
I suggest Seymour's Tokyo Hibachi and Sushi move their grill to the center of the restaurant and have their cooks practice egg flipping so they can more than double the price they're charging now.