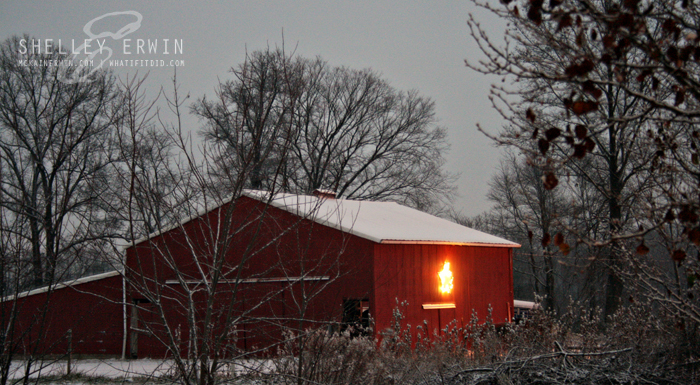 The burg got its first snow of the season, but it isn't much. Enough to delay school a couple hours — that's why I was able to snap the shot above just before daybreak. All those years of getting up early for school die hard, and I still get alerts sent to my phone. With someone dear to me in the hospital, I bolted wide awake thinking the worst when the text message came to my phone this morning. Then the mother in me kicked in, and thinking about my son driving home after working 3rd shift has me still up. I'll nap later, but right now I have something on my mind that I want to share.
I doubt there are many people that love the Internet more than I do, but I have to tell you that certain events have really opened my eyes to the negative aspects of the way it has changed all of our lives as well. Without some sort of rules in place, there is no accountability, no RESPONSIBILITY for what is projected to the masses.
It's no secret that I own the crothersville.net domain, or that a message board is provided on that site where those who are interested in the community can share ideas and opinions. I have help from three fabulous friends, and we monitor posts and delete offensive comments. It's easy online to be John Doe and espouse vitriol words not caring who gets hurt, and we do our very best to make certain that doesn't happen. Other online entities do not have that same set of ethics.
Take for example the post I made earlier about a missing Austin (formerly from the burg) man. I do a Google search for newsy information and the first link goes to topix.com. After reading for 5 minutes, I figure any second God is going to nuke the planet. There are too many evil people living on earth, and I swear every single one of them have an Internet connection! The dude is MISSING, and there are anonymous posts that provide NAMES of people they feel are responsible for his death. Of course they don't use their real name, so they can say anything no matter how it might hurt the family of the missing man, or the family of the person they are accusing. Who monitors this garbage? Evidently no one.
But it goes much deeper than that! Even so-called reputable news publishing entities allow similar vile and slanderous comments to be included after the articles they publish. You can read an article, say you're me, provide a bogus email address, and claim anything you want — you can even state lies as facts and ruin reputations. So what — no one knows it was really you.
Shouldn't there be some form of accountability — especially for news reporting entities? I think that it's gotten to the point in the industry that ANYTHING provided to draw readers or subscribers is considered ok.