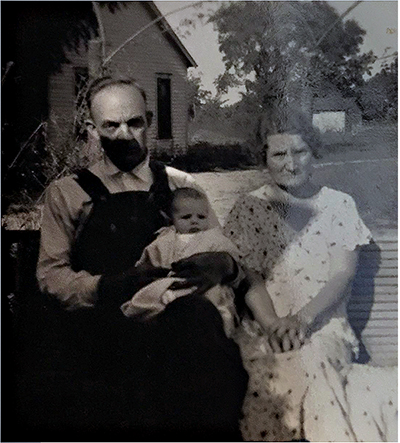 My Dad's Mom, Bessie, was gone before I was born. Still, I remember being called "Bessie" throughout my lifetime.
Usually the name calling came hand-in-hand with some reference to "black eyes" and was on the heels of me being a turd. I'm guessing G'ma had a sharp tongue to go with snappy, bone-piercing black eyes because I don't think I resemble her appearance. Probably just her actions when she was having a bad day is my guess.
G'ma gave birth to 10 kids (I'm pretty sure it was 10… give or take a couple — who counts after 7 anyway?) and probably wasn't that much older in this photo than I am today. ::GASP:: I know she was still having the last of her family long after what would be considered average child-bearing years today — if I remember correctly, she was over 50 when her baby, Shirley Ann, was born.
At least my brother didn't go unscathed. He got tagged with the name "Noah" (pronounced back in the day like No-eee), our grandfather on Mom's side. On the bright side, our parents named us Scott & Shelley. I figure it could've been much worse with the middle names they were given at birth — Maynard & Marcella.