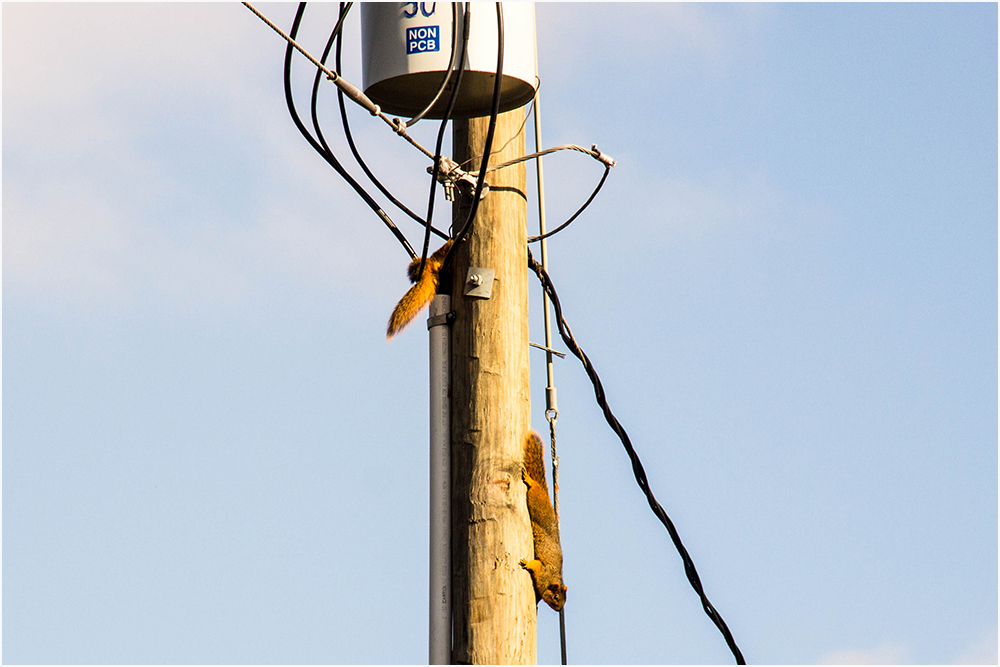 I'm sure I heard these two talking about which cables are electric and which ones are Internet cables. They don't want to make the same mistake of a predecessor — their buddy that was found crispy on this same pole earlier in the year.
Insofar as Internet service providers, I have Xfinity (Comcast) and I have Metronet. About 2 months ago, I picked up Metronet in hopes that the service would be comparable to Comcast so I could dump them. Metronet's customer service is fabulous! Every single time I've contacted them, they've listened to me and responded candidly, apologized, and seemed to genuinely care. But… my Metronet service (high speed fiber) is down AGAIN.
My Comcast service is working just fine, but every single time I've contacted them, their representatives have been rude and disrespectful. They read the same bunch of horse sh*t in a monotone voice about how much they value me. I would be ok with that if not for the fact that it's the ONLY time they aren't being ugly.
Yesterday, I was trying to eliminate my Comcast cable TV (I LOVE Directvnow and it's $35/m!) and upgrade my Internet speed. The woman I spoke with was so awful I finally asked that she simply forget I called (thinking I'd roll the dice later in hopes I'd get someone not so hateful). At that, she GROWLED at me, you guys! Sort of like a pirate's "ARGGGG" with grizzly bear sounds included.
So I can choose a company with great customer service and a crappy product — or a company with a decent product that treats customers like crap. ARGGG!