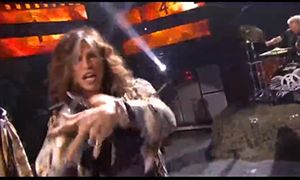 Here you are reading a "random thoughts" post with a title pulled from lyrics of an old Aerosmith song that was released in 1974. I still love Aerosmith! While I like what came out in the 90s best, I like the old stuff too. 'Legendary Child' is a recent single and they are to release a new "album" (not sure why it's still called that) in August of this year. Matter of fact, there's a sneak peak of what's coming — their first music video in over 8 years on youtube. Steven Tyler and Joe Perry have pretty much kept doing that same old… same old song and dance for decades.
They recently debuted 'Legendary Child' on American Idol, followed by 'Walk This Way' (from 1975), and the fact is — people (like me) still love Aerosmith! And these dudes are OLD!! Even to me they are OLD! (Stephen Victor Tallarico was born in 1948, and Anthony Joseph Perry was born in 1950.) Heck, I remember they were popular (again) when Ben was a kid — and how much it thrilled me to hear him listening to something I not only tolerated, but really, really liked. I think it's pretty darned amaaaazing (pun intended) that they are able to perform the way they do after all these years. Decades even!
So now I finally get around to my thoughts and why I started this post in the first place. I've had bangs for decades. Seriously. That hair covering my forehead has been a bajillion different colors, but it's always been there. And right this very second, I know why! It's a royal PIA to let them grow out. The hair in my face — unlike hair in the face of Steven Tyler or Joe Perry (obviously) — is making me crazy! (I go crazy, crazy, baby, I go crazy..) My bangs are going to have to grow out faster, or this girl is going to soon be doing that same old song and dance.