In June 2002, my class had a reunion. What really got me thinking about it was a discussion I was having with my brother. I was trying to tell him who someone was, and wanted to reference a relationship to someone I graduated with. I could not — for the life of me — remember the dude's name. And to be honest, I still can't. Maybe by the end of this post, if I dig deep enough, I'll figure it out. In the meantime, allow me to share my treasure trove of 2002 photos of my classmates — even the ones whose names escape me. I am old. Officially. Ancient even.
The top three photos on the left of the graphic above are 3 sets of friends. Back in the day, the pairs of friends went together like peanut butter and jelly. And Shelley and Tammy. And Teresa and Cathy. And Trina and Joyce. And pizza and beer.
Right below that on the left is the group shot — everyone that attended the reunion in 2002. I can even name them (I think)… here goes:
Bottom L to R: Sharon (now goes by Peggy) Barnes Burns, Velvia Brock, Tammy Masters, Cathy Scifres and Mark Hensley.
2nd row L to R: Darla Murphy, Joyce Thompson, Teresa McIntosh, Cheri Morris, Teresa Bowman, Connie Howard, Trina Vail, Tammy Brown, & yours truly.
Back row L to R: Brian Niewedde, NaLona Deputy, Tom Brock, Albert Chapman, Steve Wooten, Gary Rutherford, Mike Brown, Gary Bischoff, Rick Lewis, Bruce Barger and Bill Garrison. (Whew! I knew I could do it!)
Now on the right, the top 2 photos are from the yearbook, and the bottom photos were current… back about 10 years ago they were current. I still remember the guy's cheer… did we think it was cool? You betcha! It went… "pork chop, pork chop, greasy, greasy, we're gonna' beat you, easy, easy." Seriously. I would not lie to you.
Our class reunion? We even had a brochure. Or a flyer. Because it was nothing close to being a program…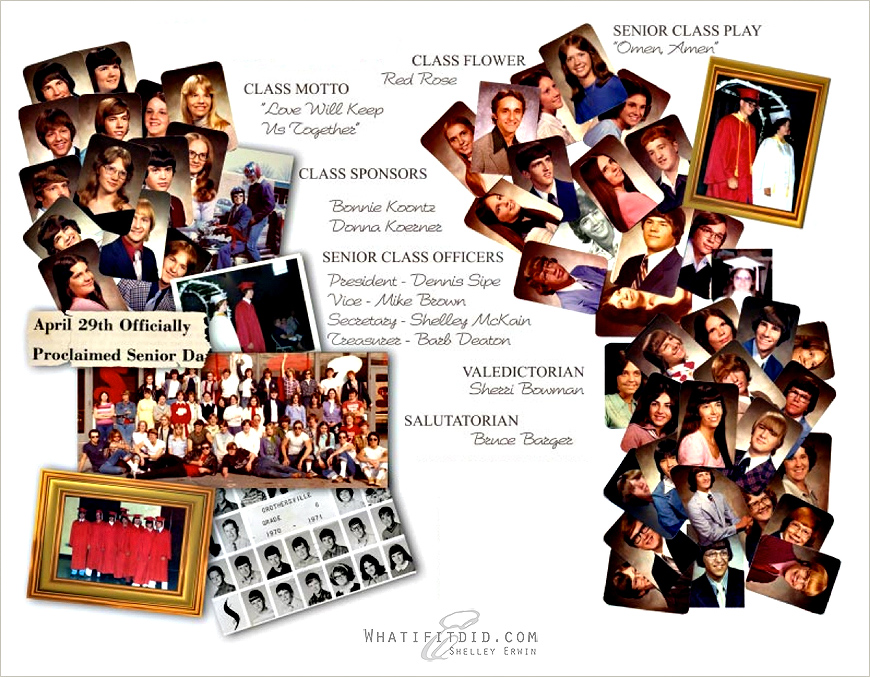 In 2002, we'd lost one classmate that I know of, Debra Chapman. I'm not sure of the current status of a couple classmates — no clue if they are alive or dead. And, it's surprising how so many of those I graduated with still live relatively close to Ville. Out of the 55 graduates, way more than 1/2 still live within 50 miles. Class motto, "Love will keep us together." Hmmm… maybe? There's one chick… only one name, Darlene Perry, that I have no memory of whatsoever. She's not in the photo scatter (above), so maybe someone just made that name up. I was class secretary all 4 years of high school. I should at least remember everyone!
Just looking at the photos conjure wonderful memories. If you don't know who any of these strange people are, come back tomorrow for something a bit more traditional. But while you're waiting… pull out some of YOUR old high school photos and take a trip in the way-back machine. You'll think of things you forgot. =)