First of all, "swoopy" isn't really a word so how am I supposed to take this survey thing seriously? What haircut should you actually have? Click away and fill in blanks, but please note — even if you prefer lunch with Lady Gaga over Oprah, you may not get the end result you expect.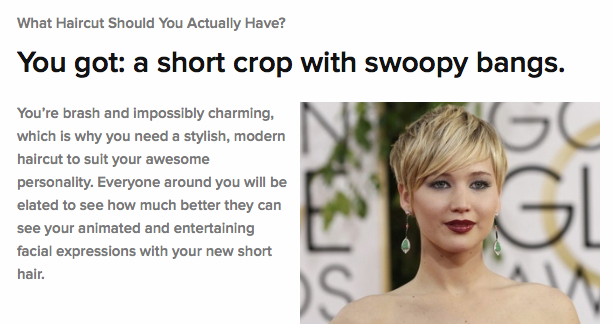 Libby took the same test (indicating that her most satisfying "feel" was pooping) and her results were:
What Haircut Should You Actually Have? You got: a bowl cut. You're eccentric and forever imbued with a childlike sense of wonder. Your friendly and adorable personality needs a haircut that's just as cute to match.
While it's true that Libby is imbued with a childlike sense of wonder and has an adorable and friendly personality, I personally don't think the bowl cut is her best option.