I'm getting old(er). We all are of course, but I remember thinking how OLD I was on my 35th birthday — and at 50 something I realize how foolish that thinking was at that time in my life. The one thing that reminds me how freaking old I really am now is my eyesight. I can no longer see without my glasses. When the 'old age eye' thing first hit, I just couldn't read small print. Now, I can't see to read anything without help.
And EVERYONE sends text messages! The mere size of phones and the text displayed converts to me spending a ton of time grabbing my glasses to read them. Texting back is another issue altogether, and I find that I often rely on speech recognition to facilitate my responses. Quick and easy. Right? It's my opinion Siri, (the intelligent personal assistant that lets you use your voice to send messages, etc. on the iPhone) is better than Android's version. I say this from experience.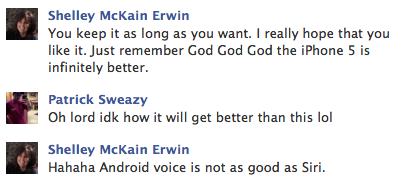 I have an Android Vegas phone — and an Indiana AT&T iPhone5. I'm pretty sure that makes me an expert (second only to my brother who has so many phone numbers even I don't have a clue which one to call first) — or at least knowledgable enough to respond when friends ask for advice on what phone they should buy. I can tell you this: if you're reading that Android's Siri alternative is better, just look at the photo to the left. When you say, "dot dot dot" (not God God God) to Siri, the fabulous iPhone assistant converts that to "…" — which does NOT happen on the Android. (God God God. Really Android?)
I had a conversation with my favorite cousin, Jerilyn, the other day. She said something about letting her hair go gray rather than continuing to color it because "she was over 50 and it didn't matter anymore anyway." I gasped! Now I'm good with Jerilyn going gray if that's what she wants — but not because it doesn't matter anymore! It's because she's beautiful no matter what color her hair is! I'm not going to blab about growing old gracefully on this eve of New Year's Eve — but I will say that I'm good with me. I'm absolutely good with wearing glasses and coloring my hair and all with the wrinkles I've earned.
2012 was amazing! I can't wait to see what 2013 will bring…