Libby was never a fan of water. Although she was a lab and the whole water thing was expected, I can't remember a time she didn't do whatever she could to avoid getting her feet wet.  Baths? She HATED them! Getting her in and out of the tub was nearly impossible. When I tried bathing her outside in the warm summer months, she was terrified of the water hose. I've dipped warm water from the hot tub more times than I care to remember and although it was difficult, she made it 100 times worse.  Libby would seriously poop on the sidewalk rather than get her feet wet in the rain.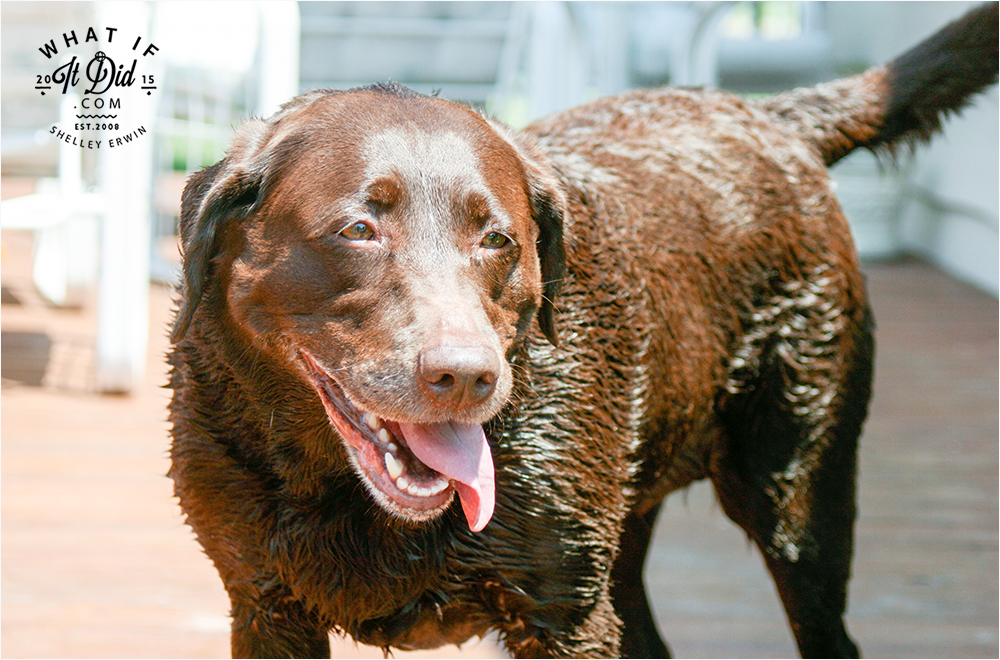 Dharma is totally the opposite. Because she's too evil to be left alone even long enough for me to shower, I lock her in the bathroom with me. I have better luck with a shower (even though she's hopping on her hind legs, grasping at the shower curtain trying to get in) because it's quicker. A bath for me is no longer a relaxing experience. Every part of my body is shredded that she can reach as she hops and scrambles to get in with me  — just barely too short. I figure I've got about a week before I am required to change my routine.
When I do give her that extra boost and she hits the warm water (once I'm safely out), she growls, barks, and bites at it. It reminds me of a ninja… bite in front, leap, and bite that bad water behind.
She may look all innocent… but she is far from it, you guys. She's a little terror with a love/hate relationship with H2O.