When I first met Perry he had a room in his house painted bright orange. Bengals' orange to be exact. So I'm not sure WHAT I was thinking allowing him to choose a paint color for me. The family room here is now 'Fossil Butte' (hopefully he didn't pick this color as a 'you are old as dirt' reference to me!). When I opened the paint can, the first thing I thought of was baby poop. It's a good thing for him it dried much darker once on the walls!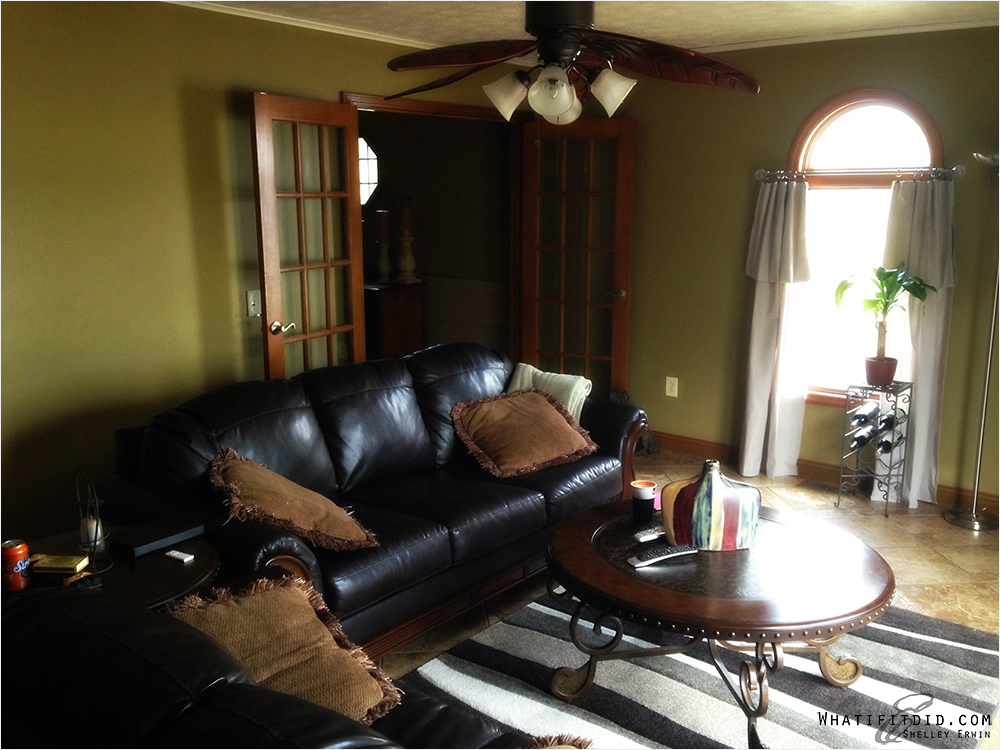 The more I look at the color, the more I like it. It wasn't until this morning I realized why… Fossil Butte is pretty close to the color I chose for the mckainerwin logo many, many years ago. (Color of the room before painting can be seen here.)
On this first day back to work after a long weekend, I'm grateful that I'm not a painter. I feel beat up and I'm not ready to start the upcoming projects that have already been planned — garage into gondola or office painting/new flooring. And, it's a good thing I have nothing to do at the 'Escape the 80's House Project' until the contractor's work is complete because even my favorite brother couldn't throw enough motivation my way to get me to participate.
Happy back-to-work Tuesday! I hope you appreciate your job after this long Labor Day weekend as much as I do.
[box color="white" icon="total_plan_cost"]P.S. The curtains you see in the photo above are a Pinterest creation. Made from drop cloth, this no-sew project is valued at $10.34. They turned out even better than I expected. I followed the directions at the following link: http://downtoearthstyle.blogspot.com/2013/08/frayed-edge-drop-cloth-curtains.html[/box]